Unpacking the Power of One on One Therapy at 12 South Recovery in Orange County
One on One Therapy, also referred to as individual counseling or talk therapy, is a service proudly offered at 12 South Recovery, a premier mental health treatment center located in Orange County. This confidential and deeply personal form of therapy takes place between a single client and a highly trained mental health professional from our exceptional team. At 12 South Recovery, we provide a safe and nurturing environment that fosters trust, allowing for a comprehensive exploration of thoughts, beliefs, and life challenges, ultimately aiming for personal growth and improved wellbeing.
Our treatment center employs a multitude of effective therapeutic approaches, such as Cognitive Behavioral Therapy (CBT) and Dialectical Behavioral Therapy (DBT), and other personalized strategies that cater to each client's unique needs. In our Orange County facility, each one-on-one therapy session is individually tailored, with the pace, intensity, and focus of each meeting adjusted to suit the client's specific needs.
The Benefits of Talk Therapy at 12 South Recovery
Individual counseling at 12 South Recovery plays a vital role in the recovery journey of individuals grappling with addiction and mental health disorders. Our clients gain significant benefits from our one-on-one therapy sessions, including the enhancement of self-awareness, the improvement of communication skills, and the cultivation of constructive coping mechanisms.
Our Orange County based talk therapy sessions at 12 South Recovery are designed to stimulate introspection, fostering a profound level of self-awareness that can be a powerful tool in controlling emotions and identifying factors that might trigger a relapse or promote negative behaviors.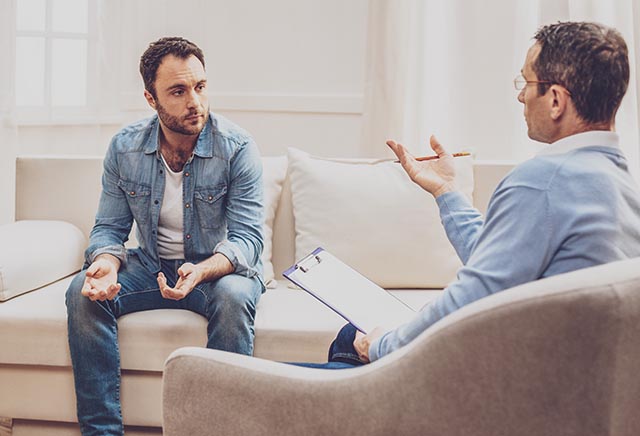 Best Therapy in Orange County
As a leading treatment center in Orange County, 12 South Recovery's individual counseling or talk therapy is renowned as a cornerstone of many of our addiction and mental health treatment programs. Beyond fostering self-awareness, our therapy sessions help clients improve their communication skills. Skills such as active listening, engaging in meaningful compromise, accurately identifying and expressing emotions, and open and honest communication are invaluable tools in the recovery journey. At 12 South Recovery, our safe and supportive environment encourages honest dialogue and feedback, facilitating the development of these essential communication skills.
The tailored individual counseling at 12 South Recovery doesn't stop at improving communication skills; it also focuses on the development of effective coping strategies for challenging situations. Our experienced therapists work closely with clients to design coping mechanisms that are deeply resonant with their unique set of challenges and personal experiences. This makes our one-on-one therapy in Orange County an integral part of the recovery process, providing the tools and skills needed for lasting recovery and personal growth. At 12 South Recovery, we are committed to guiding our clients towards a healthier, more fulfilling future.
Find Out If Your Insurance Covers Treatment
We accept most major health insurance.
Check your benefits coverage online or call now to receive a private, no-obligations consultation for yourself or your loved one.
At Twelve South Recovery, we use
proven therapies

, and

an evidence-based approach

to addiction and mental health treatment.
WE SPECIALIZE IN:
SOME OF THE ADDICTIONS WE TREAT:
CONTACT INFORMATION
ADDRESS
23712 Birtcher Drive,
Lake Forest, CA 92630
PHONE:
866-839-6876
EMAIL:
ADMISSIONS@12SOUTHRECOVERY.US