GROUP THERAPY
What Is Group Therapy?
Group Therapy is a form of psychotherapy in which a group of individuals meet together under the guidance of one or more trained therapists to discuss their problems and help one another. Many groups are designed to focus on a specific issue such as substance abuse, loss, trauma, anxiety, etc.. The sessions are led by trained therapists who teach group members strategies for managing specific problems. A typical session will differ based upon the therapist's style and the goal of the group. For example, a group could consist of a planned lesson or a free-formed discussion.
While the size of the therapy group can vary, the number of people in the group is not an important factor to its effectiveness. The critical element is that the members share a common problem or concern. This allows individuals to learn from one another and support each other. As they see others are going through the same thing, they begin to feel less alone. Group therapy allows people to receive support and encouragement from other members of a group while also benefiting from the knowledge and guidance of a professionally trained therapist.
Benefits of Group Therapy
Group therapy is a valuable type of therapy that provides a place for individuals to learn from and with each other alongside their therapist. This type of therapy has been shown to be especially helpful to those recovering from addiction and mental health disorders. Individuals gain support, accountability and improve their relationship skills in group therapy which contributes to their long term success and growth.
Oftentimes, addicts and those suffering from mental health disorders feel alone. There can be tremendous relief from hearing others share that they are facing similar challenges and issues in group therapy. Group members support one another as they overcome comparable problems and make positive changes.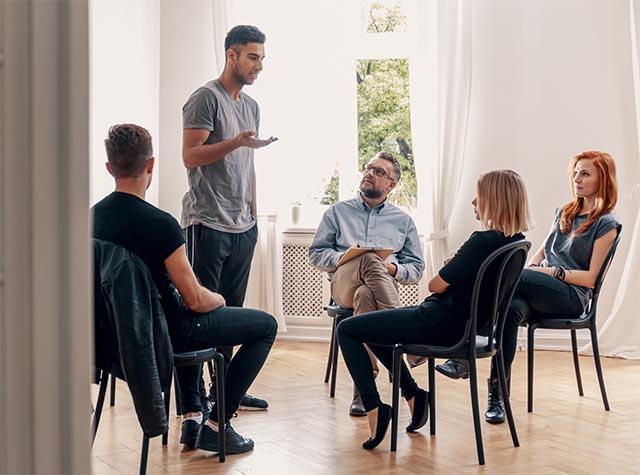 In group therapy, the growth of one individual can often help inspire other group members to face their own challenges using similar strategies. Group therapy is also beneficial for the strengthening of communication and relationship skills. Those who suffer from substance abuse disorders and mental health disorders can have difficulty with conversation, listening, and understanding skills. Group settings teach these communication skills that can be applied to everyday life beyond the group therapy sessions which can help maintain recovery and sobriety. Another important benefit of group therapy is the opportunity to receive feedback from peers in a supportive environment. Accountability is essential for those with mental health disorders and addictions. In group therapy other group members hold each other accountable and let others know when they are making a bad choice or behaving in a way that could be disruptive to their progress.
Find Out If Your Insurance Covers Treatment
We accept most major health insurance.
Check your benefits coverage online or call now to receive a private, no-obligations consultation for yourself or your loved one.
At Twelve South Recovery, we use
proven therapies

, and

an evidence-based approach

to addiction and mental health treatment.
WE SPECIALIZE IN:
SOME OF THE ADDICTIONS WE TREAT:
CONTACT INFORMATION
ADDRESS
23712 Birtcher Drive,
Lake Forest, CA 92630
PHONE:
866-839-6876
EMAIL:
ADMISSIONS@12SOUTHRECOVERY.US