EMDR THERAPY
What Is EMDR Therapy?
EMDR or Eye Movement Desensitization and Reprocessing is a psychotherapy treatment that was originally created to treat severe traumatic memories and PTSD. This type of therapy was designed to enable people to heal from the symptoms and emotional distress that can result from traumatic events and life experiences. EMDR takes place between a trained mental health practitioner and a client through a series of 8 phases focusing on the past, present, and future. During a session, the therapist will ask the client to recall a traumatic memory in their mind while using his or her eyes to track the therapist's hand that will be moving back and forth in front of their line of vision. Recalling traumatic events in brief sequential doses with diverted attention can be less emotionally upsetting, allowing the clients to process the memory and bring about an adaptive solution. Eye Movement Desensitization and Reprocessing can offer benefits in a 90 minute session that once took years in other psychotherapy models. Specializing in treating trauma, PTSD, panic attacks, eating disorders, addictions, and anxiety; EMDR is a safe and measured therapy that allows the natural healing powers of the brain to move towards recovery and resolution.
Benefits of EMDR Therapy
EMDR is a powerful form of therapy that has shown to be effective in the treatment of a variety of mental health disorders. Although it was originally created to treat PTSD, EMDR is now used to treat substance abuse disorders and other mental health disorders because of the many benefits it can offer, such aiding in the healing of past trauma, improving self-esteem, and reducing cravings for drugs and alcohol.
The root cause of many addictions and mental health disorders is trauma. By treating an individual's trauma, EMDR can help the person suffering to have less of a compulsion towards using substances or negative behavior as a coping mechanism. Trauma, as well as poor relationships, conflicts, and lack of connections can all lead to negative self-esteem.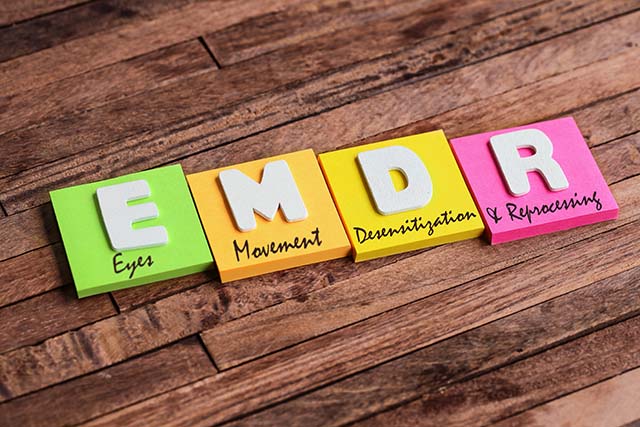 Through working through these things with Eye Movement Desensitization and Reprocessing Therapy, a more positive self-image can be formed and the negative internal dialogue can change. EMDR is also used to help addicts and alcoholics to reduce cravings by helping them let go of patterns and memories that are triggering them.
Find Out If Your Insurance Covers Treatment
We accept most major health insurance.
Check your benefits coverage online or call now to receive a private, no-obligations consultation for yourself or your loved one.
At Twelve South Recovery, we use
proven therapies

, and

an evidence-based approach

to addiction and mental health treatment.
WE SPECIALIZE IN:
SOME OF THE ADDICTIONS WE TREAT:
CONTACT INFORMATION
ADDRESS
23712 Birtcher Drive,
Lake Forest, CA 92630
PHONE:
866-839-6876
EMAIL:
ADMISSIONS@12SOUTHRECOVERY.US