HOLISTIC THERAPY
What Is Holistic Therapy?
Holistic therapies have been used for centuries and they play an important role in recovery, health, and wellbeing. Holistic therapy is an approach to therapy that considers the whole person; mind, body and spirit. This approach to therapy focuses on proper balance of the whole person in the quest for optimal health. Holistic therapies often work alongside conventional therapies and medicine in a complementary manner. The primary goal of holistic therapy is to help individuals gain understanding of their whole self while improving their self-awareness, self-esteem, and self-acceptance. Mindfulness practices, nutritional therapy, art therapy, reiki, breathwork, massage therapy, and sound therapy are all examples of different types of holistic therapies.
Benefits of Holistic Therapy
These types of therapies serve as an opportunity for individuals to attend to their psychological, physical, and spiritual needs. Holistic therapies can be beneficial for treating anxiety, depression, PTSD, eating disorders, addictions, and other mental health disorders.
A typical session will look different depending on the type of holistic therapy being practiced and can take place on a group or individual level. Holistic therapies can restore imbalances that can cause disruptions in overall health and help to realign one's energy, resources, and priorities.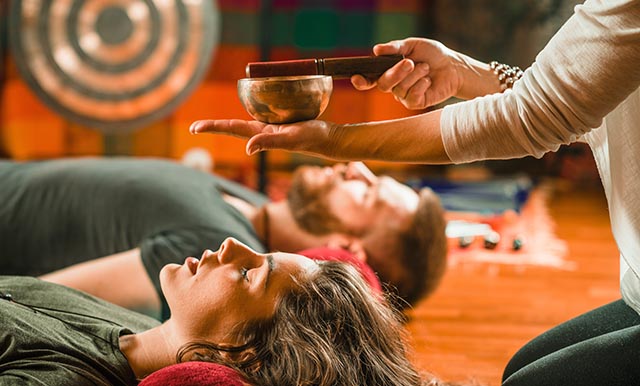 Holistic therapies focus on treating the whole person in order to promote lifelong recovery and an improved quality of life. The goal of holistic therapy is to restore balance to mind, body, and spirit while also reducing overall stress. Those who suffer from addiction and mental health disorders often show imbalance physically, emotionally, and spiritually. Holistic therapy allows individuals to heal the various ways they may have suffered physically and challenges patients to look within themselves to heal emotionally and spiritually.
These types of therapies also have been shown to reduce stress which is important in relapse prevention. Stress is a common trigger for those with mental health and substance abuse disorders. In recovery it is important to find ways to relieve stress and emotional setbacks in order to improve self-awareness, self-esteem, and achieve long term goals.
Another benefit that holistic therapies offer is that they can be practiced throughout one's recovery journey. Meditation, yoga, and sound therapy groups for example are available for people of all ages and they are easily accessible. These methods can serve as low-cost recovery tools for those with addictions and mental health disorders that can be utilized when a triggering situation arises.
Find Out If Your Insurance Covers Treatment
We accept most major health insurance.
Check your benefits coverage online or call now to receive a private, no-obligations consultation for yourself or your loved one.
At Twelve South Recovery, we use
proven therapies

, and

an evidence-based approach

to addiction and mental health treatment.
WE SPECIALIZE IN:
SOME OF THE ADDICTIONS WE TREAT:
CONTACT INFORMATION
ADDRESS
23712 Birtcher Drive,
Lake Forest, CA 92630
PHONE:
866-839-6876
EMAIL:
ADMISSIONS@12SOUTHRECOVERY.US