Chronic stress associated with mental illness can be detrimental to an individual's health. Some people find stress relief from a big nap, binge-watching television, or listening to music. These, when used in moderation, are relatively healthy coping mechanisms. However, when used in excess, they become harmful. In unhealthier situations, a person might use substances or self-destructive behaviors to bury the stress. When looking to heal, it's important to find healthier options. Yoga could be a good outlet to stay mentally and physically healthy.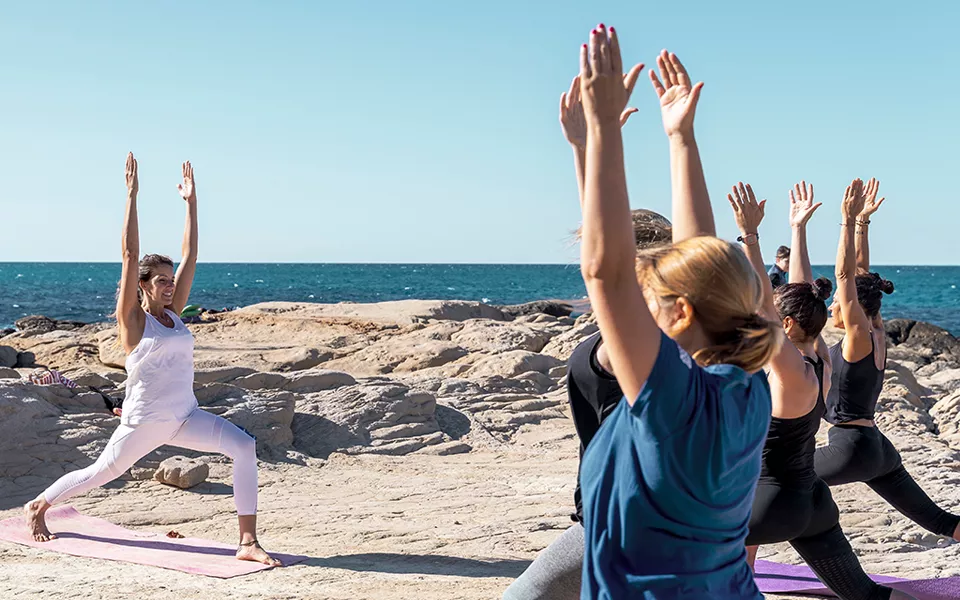 What Is Yoga?
According to the National Center for Complementary and Integrative Health (NCCIH), yoga is a form of exercise that dates back to ancient times. While it started as a spiritual practice, facilities use yoga to promote mental well-being. It's commonly labeled as a holistic therapy approach to health — a therapy that takes a whole-person approach to healing.
The practice of yoga has become very popular over the years because, as NCCIH states, studies have proven the practice can improve a person's overall fitness level. People enjoy doing this kind of exercise to reduce stress and promote movement. Yoga can improve a person's self-confidence, coordination, and sleep patterns. It even aids in digestion.
Different Elements
A typical class can range from 45 minutes to an hour and a half. Various yoga styles can range from gentle movements to physically demanding practices. Classical yoga therapy may include several different elements, but each practice includes these three basic components:
Physical postures or poses (Asanas): Different movements, whether they are floor or stand-up poses, can increase strength, flexibility, and balance overall.
Meditation techniques (Dyana): Ending a class with meditation can help you relax and quiet your mind.
Breathing methods (Pranayama): Focusing on breathing can come in different exercises.
What Psychiatric Disorders Can This Complementary Therapy Treat?
As previously discussed, yoga offers many health benefits. This holistic therapy might prove successful as an additional intervention in common psychiatric disorders, such as:
Depression
Anxiety
Bipolar disorder
Attention-deficit/hyperactivity disorder
According to a 2012 study published in the International Journal of Yoga, yoga can even treat a severe mental illness (SMI) like schizophrenia. While most psychiatrists still recommend pharmacotherapy, it can serve as a holistic additive. This complementary therapy and meditation can be combined for added health benefits as some patients still present cognitive and social functioning deficits even with medicinal treatment. There are some indications that the hormone oxytocin during practice may contribute to social cognition changes.
How Can Yoga Help a Person With Mental Illness?
According to an article in the Indian Journal of Psychiatry, the practice of doing yoga can help an individual with a mental health condition in five ways such as:
#1. Promotes a calming effect: Different breathing practices, such as Asanas in yoga, can help a person feel less agitated and more relaxed.
#2. Generates awareness: Each session generates self-awareness and attention to surroundings. They also raise awareness of physical sensations, such as heart rate and balance.
#3. Increases attention span: It can be difficult for a person who is facing challenges with their mental health to return to the workforce due to a reduced attention span. Practicing yoga may help a client maintain focus with greater peace for a longer period.
#4. Acceptance and adaptability: Yoga counseling educates an individual on strategies for acceptance and adaptability to environments. This can help a person transition from a therapy center to the outside world.
#5. Security: Bhakti therapy can provide an individual with the foundation of reassurance and security. Surrendering to a higher power or role model can be found to greatly enhance the strength of an individual advancing through recovery.
Integrating Yoga Into Daily Life
If a person has an interest in practicing yoga and feels this type of holistic therapy could help benefit their everyday life, getting started may be a life-changing decision. As discussed, it's a practice that can help with various chronic mental illnesses.
At first, a person might need to work with a yoga instructor. They'll guide the client through different asanas. The step-by-step instructions will allow a person to do it correctly. Additionally, engaging in a class could be a nice way to spend time with others.
Over time, a person can start practicing on their own. Yoga can fit into pockets of time throughout a person's day. Though a mat might be nice, a person doesn't really need any equipment to do a session. They only need a little bit of space and their mind.
If the individual wants to optimize their practice, they can do yoga in a comforting environment. They might want to see the sunrise or the sunset while practicing. To get the full effect, they could go outdoors. Also, yoga could include candles or incense for olfactory grounding. The person might wear clothing that feels soft and stretchy for tactile comfort.
Staying physically active by practicing yoga can come with several mental health benefits. Addiction and mental health disorders often create physical, mental, and spiritual imbalances. Holistic therapy allows you to heal mentally and physically from the challenges associated with specific mental health conditions. As a licensed and JCAHO-accredited mental health treatment center, 12 South Recovery is a leader in Orange County mental health treatment. Our mission is to generate a seismic shift in mental health services—creating positive change in the world of treatment for mental health. We achieve this by incorporating traditional and holistic therapies. If you feel yoga therapy might be helpful for you, we can help. Call 12 South Recovery at 866-839-6876.